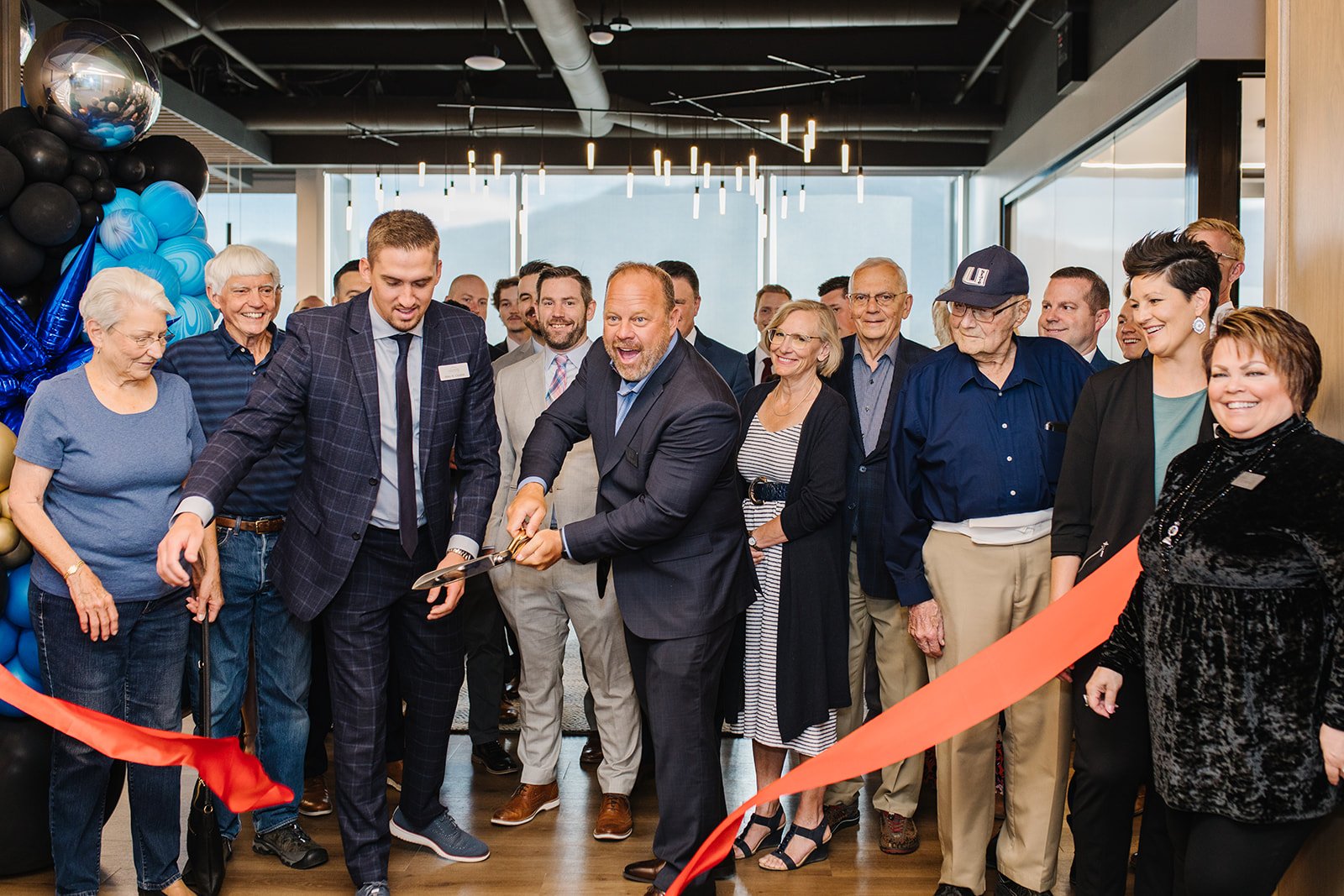 LOGAN, UTAH – Adams Wealth Advisors Founder and CEO Craig Adams, President Riley Crosbie and the Adams Wealth Advisors team members unveiled the company's new office building. Located at the southern end of the Valley, this office resides on the fourth floor of the Logan Business Gateway building.
Complete with 30 offices, five conference rooms, and multiple gathering areas for both clients and employees, this new 16,000 square foot office keeps client service as its top priority.
The conference rooms serve as the heart and focal point of the new building. Each was deliberately designed with client privacy, protection and piece of mind as their center focus. With features such as fogging glass panes which transform the clear walls to a light gray with the touch of a button, and sound-proofing technology lining the walls, clients can confer with their advisors and planners with confidence that their information is protected.
Each office within the new location is equipped with the same privacy-protecting features to ensure maximum security throughout conference calls, team discussions and more. Additionally, gathering areas located on the north and south ends of the building contain seating space designed to house up to 300 people for events and initiatives.
"Everything we've done, every detail in this office was designed specifically with our clients, our team members, and our community in mind. One of our goals was to create a place that's functional and beneficial to everyone, and I think we've done just that," Craig Adams said.
The new location also features paintings from various local artists, including Larry Winborg, Dianne and Doug Adams, Lori Reynolds and more. The Live Edge custom tables were created by Logan local Rance Haymaker, and different décor was sourced from Curate, Locals. Woodwork, metal work, and cabinetry in the building were all done by companies based in Cache Valley.
Adams Wealth Advisors is a privately-owned, independent wealth management firm offering comprehensive financial planning to clients across the Mountain West. The firm's philosophy and team-based approach address the need to deliver an investment strategy tailored to each client's needs. They specialize in offering services and resources that best fit your overall financial picture.
For more information on Adams Wealth Advisors, please call (435) 754-7887.
Disclosure:
Adams Wealth Management is a registered investment adviser.  Information presented is for educational purposes only and does not intend to make an offer or solicitation for the sale or purchase of any specific securities, investments, or investment strategies.  Investments involve risk and, unless otherwise stated, are not guaranteed.  Be sure to first consult with a qualified financial adviser and/or tax professional before implementing any strategy discussed herein. Past performance is not indicative of future performance.